Multislice SOMATOM Spirit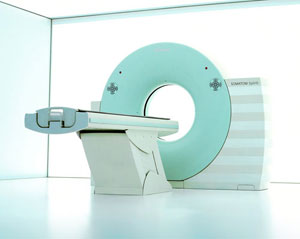 SOMATOM Spirit is a modern multislice X-ray CT scanner developed for carrying out any examination of the human body.
SOMATOM Spirit is a scanner for everyday examination allowing for carrying out regular CT tests and 3D reconstruction. System developed configuration ensures high quality of images with minimum radiation exposure to the patient. Syngo user interface and patient flow effective management technology allows for user riendly operation and system high capacity.
Siemens SOMATOM Spirit computer tomographic scanner ensures examination of the whole body. Moreover, high speed of the tomographic scanning helps to examine examination of different organs and systems:
Brain
Paranasal sinus and facial bones
Skull base bone (including petrosal bone)
Spine cord (cervical, thoracic, lumbar, sacral, coccyx)
Pelvic bones (including sacral joints) Ribs, clavicles, breast bones, blade bones
Contrast study of brain, cervical spine, thoracic organs, abdominal cavity organs, small pelvis organs.